5 Summer Wedding Dresses and 4 Suggestions for Summer Wedding Don't miss
The temperature is getting higher and higher, right? Your shorts and skirts have been changed. Summer has just come. Many activities have been cancelled for some special reasons this year. But some brides still insist on their wedding. So summer wedding dress is still a popular search term.
A masterfully perfect look straddles both tradition and contemporary style, but it's easier said than done. It is a dream of every girl to look awesome on her wedding. As it is considered a big day so she wants to be the center of attention as well. The beautiful and exquisite dress plays an important role in enhancing the beauty of the bride.
In fact, wedding fashion has changed a lot in recent years. Do you know what kind of wedding dress will be popular in 2020? Or, do you know any new wedding dress styles in 2020?So, instead of wearing stereotype dresses why not give yourself a stylish look? Read on for top wedding trends in 2020 and which styles to follow in this summer and spring season. You should also see what cuts are trending in 2020.
Why Spring and Summer are Wedding Seasons?
Are you planning a wedding? Then spring and summer season will be the best option, as there are so many things that we love about this season.
After a long and gloomy winter, the sunshine in summer is always welcomed as it will make your soul smile and warm the temperature. In summer, the days are long and you can have ample time to enjoy the wedding. You need not dismiss the party as the sun will not set in so early.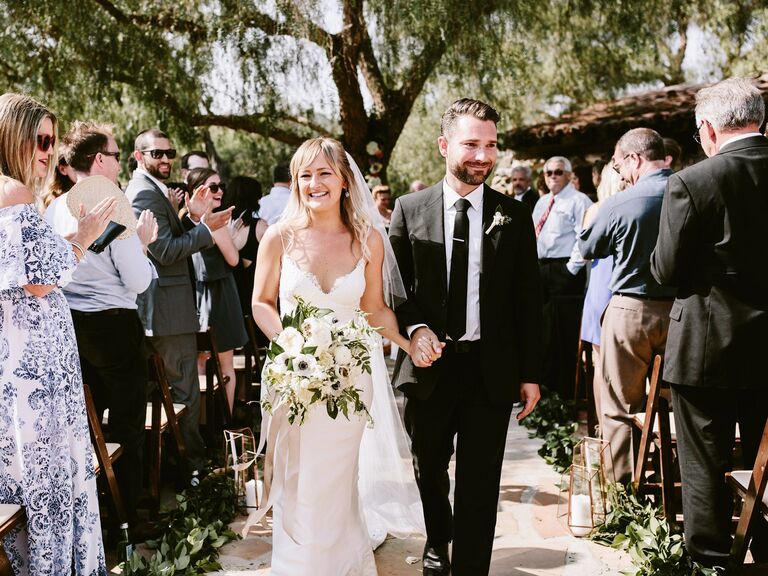 Not all summer is a good time to get married. When it comes to July and August, the temperature will become too high. Holding a wedding at this time is a high-temperature test for the bride and her wedding friends. Therefore, it is the choice of many people to hold weddings during the spring-summer transition.
As the temperature is neither too hot nor too cold. So you need not worry about wearing heavy dresses. You can wear light-weight dresses with pastel colors. The lace wedding dresses for spring and summer are quite elegant and you will shine the brightest.
Summertime is always joyful and full of colors. Who doesn't want flowers everywhere on the big day? There is a certain joy in the atmosphere and there couldn't be an any better time to create a bond of love and happiness.
Surely, your guests will be eager to step out of their homes and enjoy your wedding as well. As mostly the colorful clothes are being worn during summer. So if you want a bright and colorful crowd then you must plan your wedding in summer.
A tropical destination wedding is a common summer nuptials tradition. For this wedding, forget the formal wear, the dress code is typically much more relaxed – think flowing maxi dresses and boho vibes. Chances are you'll be outside somewhere hot, so opt for lightweight material and loose fitting designs.
A modern city or summer evening wedding is usually a more formal affair, offering the ideal opportunity to show off your style and dress to impress. Always keep an eye on the fine print for dress code information. A pastoral escape to a country estate or vineyard presents a chance to embrace your ultimate ladylike, feminine side. This season's trends cater to the rural chic look: dreamy off-the-shoulder tea dresses and romantic ruffled detailing. Floral prints are also perfectly suited to a country affair.
Are you planning to get something special for your wedding? Then first take a good look in the list of some top-dresses this year. You will get some new inspirations of wedding dresses outfit that is not only perfect for you but quite stylish and trendy as well.
Pay attention to the fabric
Well, if you have chosen the color and the embellishments then it is necessary to take a good look at the fabric of your gown. The structured materials like silk or taffeta will not only hold the shape but also smooth your figure. While filmy chiffon is also great to enhance your figure.
How to Choose the Perfect Wedding Dress?
For most of the brides choosing the perfect dress for a wedding is quite difficult. Most of the times finding the dream gown can be stressful for you. For this reason, you need to follow certain rules for dressing bride in spring and summer.
Find the styles you like
Either you browse on the internet or go through bridal magazines and find styles which appeal you the most. Compile your favorite dresses in a file and take a keen look which similarities they have got. Are they voluminous or embellished with laces? Then bring your ideas into your dress.
Keep the season in mind while shopping
It is quite necessary to keep in mind which type of fabric will suit you according to the season. In summer, lightweight fabrics and breezy styles are comfortable. While in winter heavy fabrics like satin or taffeta will be appropriate.
Make appointments in time
Try gowns from different stores and don't forget to tell them your budget so that you may not worry about it later. Make an appointment with a consultant so that he can help you in a better way to select your dress. Be open with your consultant and surely you'll get some ideas about your dream dress.
All right, here comes the key link! Having said so much about wedding dresses, you must be ready for action? Next, I will recommend lalamira to you for selling wedding dresses recently! Come and see if there is anything you like.
Glamorous look: In this year these puffy sleeves are introduced which are inspired by the 80s wedding dresses. The new touch of glamorous finishing will give them a trendy look as well.
Romantic style: If you want classic look then these off the shoulders version of the sleeves will be perfect. As it will show your tasteful romantic style as well.
Love the details: The best way to enhance the details of the sleeves it is better to wear a slim silhouette with them.
Frilly look: If you don't want a silhouette then a frilly gown will be your perfect choice. You will feel quite different in this unique style.
Add dimensions: The ruffles will add dimensions to your mermaid style dress and make your skirt a frothy look. The equal frills will give you a romantic look as well.
Stylish ways: You want to be trendy and stylish at your wedding, and then choose something which gives you some exaggeration as well.
Enhance your image: The one-shoulder neckline will flatter your upper body and you will feel more confident in showing off your figure in an elegant way. You can glam it with one long sleeve as well.
Royal entrance: If you want to make a royal entrance, then this wedding dress is the one for you. This ball gown is designed in such a way which works best for most of the wedding styles. It is quite versatile in its way and you can style it differently.
Style differently: You can either go full-on grace or you can wear heavy satin with billowy sleeves. So, no matter which style you are following, this voluminous style gown will surely make your day perfect.
Entirely different touch: Instead of wearing the same old styles and same colors why not wear something different and the bold floral prints will be a perfect choice.
Burst of color: Add a burst of color to your classically white dress. These prints will give you a subtle look whether they are in pastel colors or the form of embroideries.
You can have a trendy look on your wedding this summer. Well, you need to do some research and get your dream gown. It is not that difficult to follow new styles which are both comfortable and stylish as well.No matter the theme of your wedding, you'll find hundreds of chic and affordable wedding guest dresses at lalamira.com.
RELATED ARTICLES