For weddings: bridesmaid dresses are as important as wedding dresses—LaLamira
Spring is coming, and this season sounds very romantic. A blooming season, a season with fragrance, so many couples also choose to hold their wedding when the spring is warm and blooming. Have you seen beautiful wedding dresses and romantic beach weddings in your mind?
No, dear, wedding dress is of course very important for the wedding, but don't neglect the bridesmaid's dress!Actually bridesmaid dresses are very important for the wedding, because the perfect bridesmaid dresses can set off the wedding dress, flowers and invitations, and help set the tone of the whole wedding.
The second most important part of a wedding for any bride is having the perfect bridesmaid dresses, which come after the bride's wedding dress. Though you may think that everyone's attention will be on the husband and wife to be – bridesmaid dresses are a crucial part of any wedding and must fit the theme of the wedding overall.
Except your personal preferences, bridesmaid dresses should be suitable for the wedding theme and complement the wedding dress to perfection.Bridesmaid dresses are great for allowing the bride's wedding dress to sparkle even more, as long as you pick the perfect style and color of the dress. Don't stress, as we'll tell you exactly what to look out for to find the best bridesmaid dresses that will fit right into your wedding.
Is your mind a mess now? You are thinking about many things, such as the color, style, price, how to buy and how long to receive the bridesmaid's clothing. Is it customizable? Perhaps you are still thinking about more issues. Don't worry, let's first determine your wedding venue.
Formal weddings in a church or house of worship are definitely traditional. Brides usually choose classic and timeless wedding dresses which look grand in traditional settings. So go for classic full-length bridesmaid dresses which have structured silhouettes to reflect sophistication is the key. Avoid short hemlines or any revealing bridesmaid dresses styles (such as deep V necklines, sparkly sequin dresses, etc.), because these styles will look out of place in the setting. We suggest using single solid colors with fabrics like satin, lace or chiffon.
The beauty of a rustic wedding is casual nature of the outdoor elements. Compared to traditional weddings, rustic weddings are usually more relaxed, natural and full of local, homespun touch, these are also the reason why rustic wedding continue to be a huge hit nowadays. If you have chosen a lace wedding dress as most brides do in a rustic wedding, then your girls can never go wrong with lace bridesmaid dresses. We suggest you choosing a relaxed bridesmaid dress silhouette and consider their practicability to match the wedding venue and wedding theme.
Beach weddings have been on the top of destination wedding list for years. Simple and casual styles are ideal for beach bridesmaids because a beach wedding is typical casual and relaxed. Choose fabrics that do not show sweat and are comfortable in the heat because the weather on the beach is usually hot.
Different wedding venues have different requirements for bridesmaid dresses, so you should first understand if there are any special wedding venues and how you should choose bridesmaid dresses if there are any. When you know these things clearly, you can think about what style and color bridesmaid dress to choose.
The first thing to consider before searching for bridesmaid dresses is to figure out what kind of style to go for. There are various styles, including: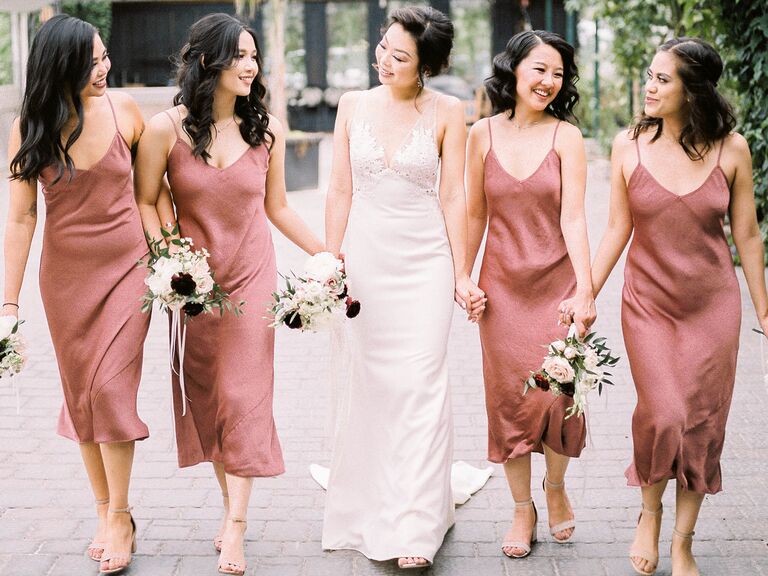 Mermaid silhouettes which are tight-fitting until the knees, and then flare out like a mermaid's tail.
Trumpet. This shape is similar to the mermaid silhouette but does not flare as much at the legs.
A-line, which is perfect for if you don't feel comfortable wearing super tight-fitting clothes but hate really wide ones too. Great for women who don't mind showing off the top part of their body but would rather take away the attention from their legs.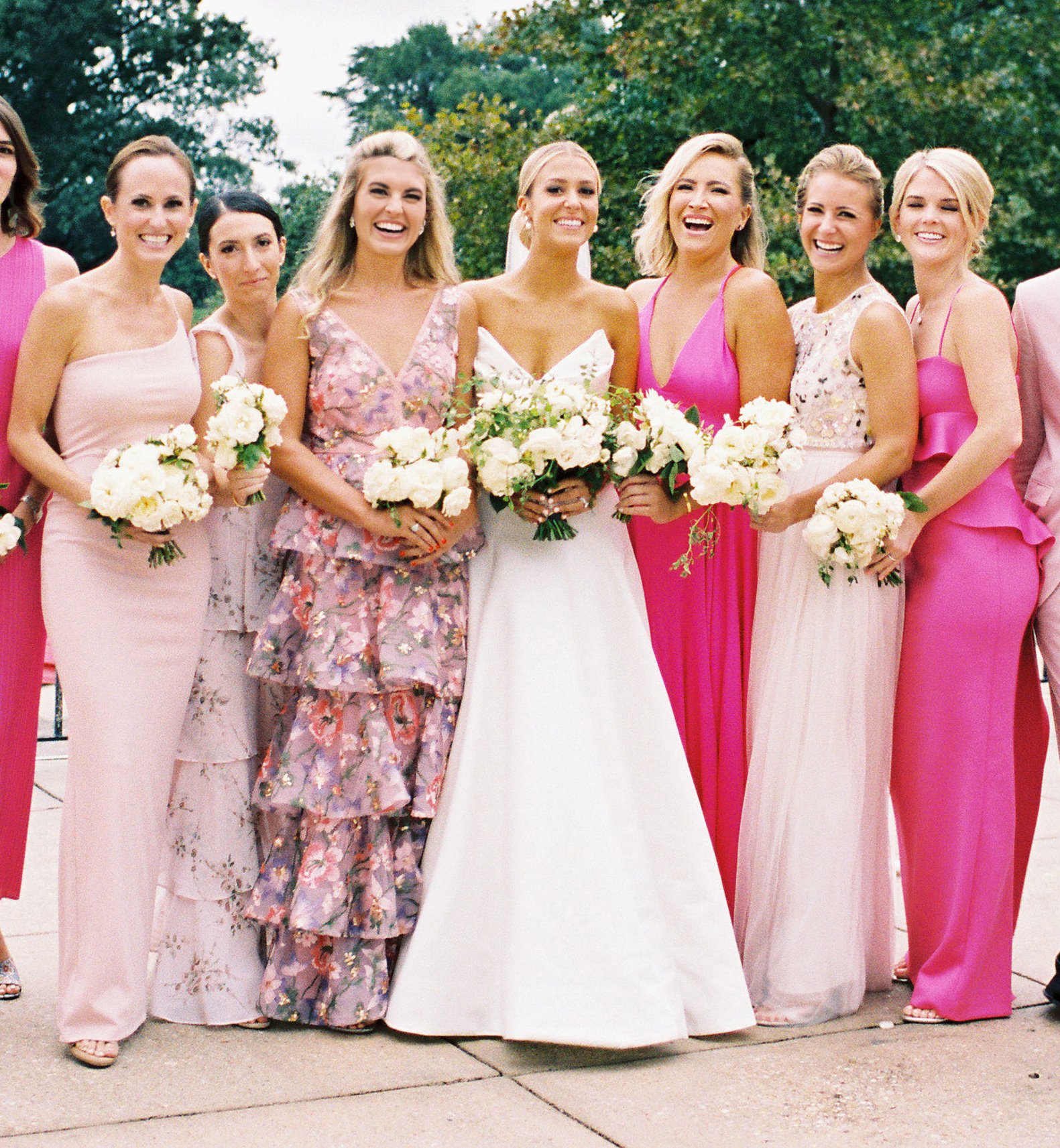 Ball gowns. These are what you would expect princesses to wear. The skirt is as big and as wide as they could possibly be.
If you are looking for a long bridesmaid dress, you will very quickly find that there are different shapes that all fit under the long bridesmaid dress category. Longer bridesmaid dresses tend to stand out more during weddings, so be careful as this could overshadow the bride's wedding dress if it is too powerful.
Stylish for long bridesmaid dresses in 2020 are accented details on the dresses such as lace detailing around the chest or shoulder area or bows around the waist.
It's a great idea to invest in bridesmaid dresses that are the same color as the bride's bouquet or the same material as the decorations. For example, if the hall is decorated with silk curtains, it may be a good idea to wear a silk bridesmaid dress that matches it.
On the contrary, another way to enchant the wedding guests and create a magical atmosphere is by having the bridesmaids dress in a bright and vibrant color, especially if most of the decorations are simple and mostly white and cream.
Consider where the wedding will take place and in what climate. If you are attending a beach wedding in the middle of summer, you may want to go for bright and summery styles and colors that add to the atmosphere. If it is a wedding in a barn or chapel, make sure to consider whether the dresses will match the interior design of the venue.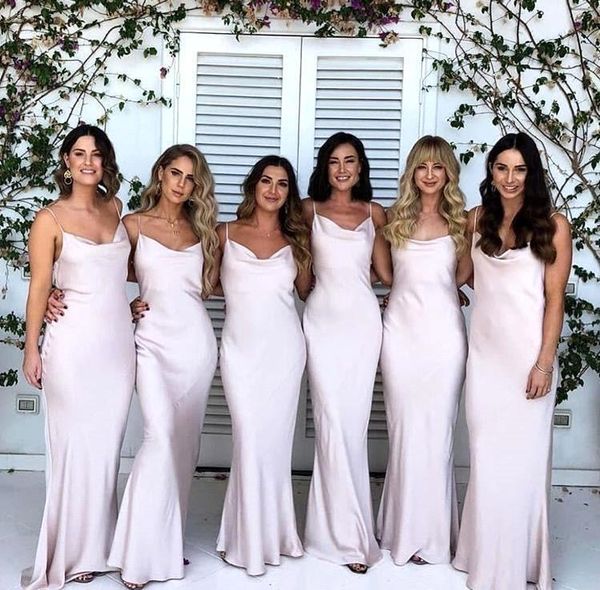 We sincerely hope these introductions about different bridesmaid dresses could give you some inspirations for your big day. However, always remember that these are not the only options to explore. Bridesmaid dresses play an important role in a wedding, and they should suit each bridesmaid individually. But they shouldn't 'win' the bride and the wedding dress.
And there are other important things you should consider when you're choosing your bridesmaid dresses:
Your budget and costs for bridesmaid dresses
Body types and skin colors of your bridesmaids
Understanding the body types of your bridesmaids is crucial when it comes to how to choose long bridesmaid dresses. Despite the color or style of the dress, if the body shape of a bridesmaid doesn't suit the style of dress, it may not be a good fit.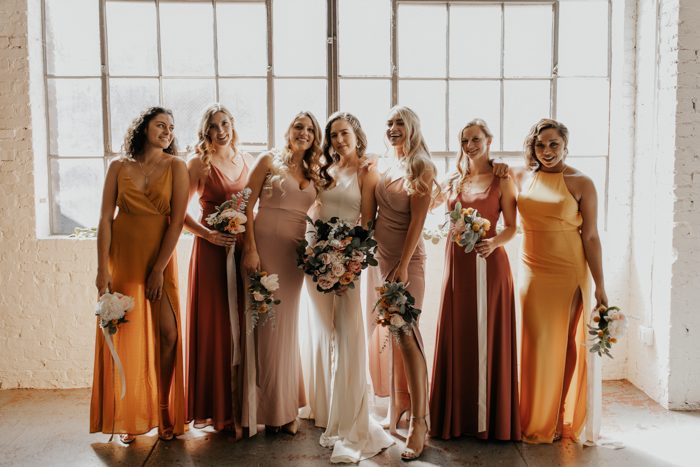 There is always a long bridesmaid dress that could be worn at any wedding, and we hope you find the perfect one that accentuates the bride's gown and the entire atmosphere of the wedding. Don't be afraid to go out of your comfort zone to find the perfect bridesmaid dress for you!
At last, we suggest start your research about bridesmaid dresses early. The earlier you get on with this difficult task, the more time and more chance you will have to make a perfect option.
RELATED ARTICLES