How to save wedding cost? You don't have to choose a cheap wedding dress
With the average wedding costing just over $30,000 these days, brides are often looking for crafty ways to cut down on their budget wherever possible. Did you know more than 45% of couples go over their planned wedding budget?
Most of the wedding budget comes from the wedding venue, wedding food, wedding dresses and suits of the bride and groom. If you want to save money as much as possible, you should start with the points I mentioned above.
1. Keep your guest list small
With catering costs at about $68 a person, the difference between inviting 120 or 150 guests can cost you a couple thousand dollars. Any unfamiliar business associates of your parents, long-lost relatives whom you haven't seen in 20 years, or anyone else that you wouldn't truly miss on your big day probably won't be offended if they don't receive an invite. I have a few friends who have not extended an invitation to me for their nuptials, but I can't say I've been upset over it because I know how pricey occasions like these can be.
2. Shop sample sales
You can save thousands of dollars on gorgeous designer dresses by shopping the out-of-season floor samples. My older sister was able to score her designer bridal dress for a seriously great price at a sample sale and it suited her perfectly. Call your local dress shop to find out if they have any sample sales coming up. Be sure to research ahead of time to figure out exactly what silhouette, fabric, and designer you are interested in, since you'll need to make your decision quickly on these sale days.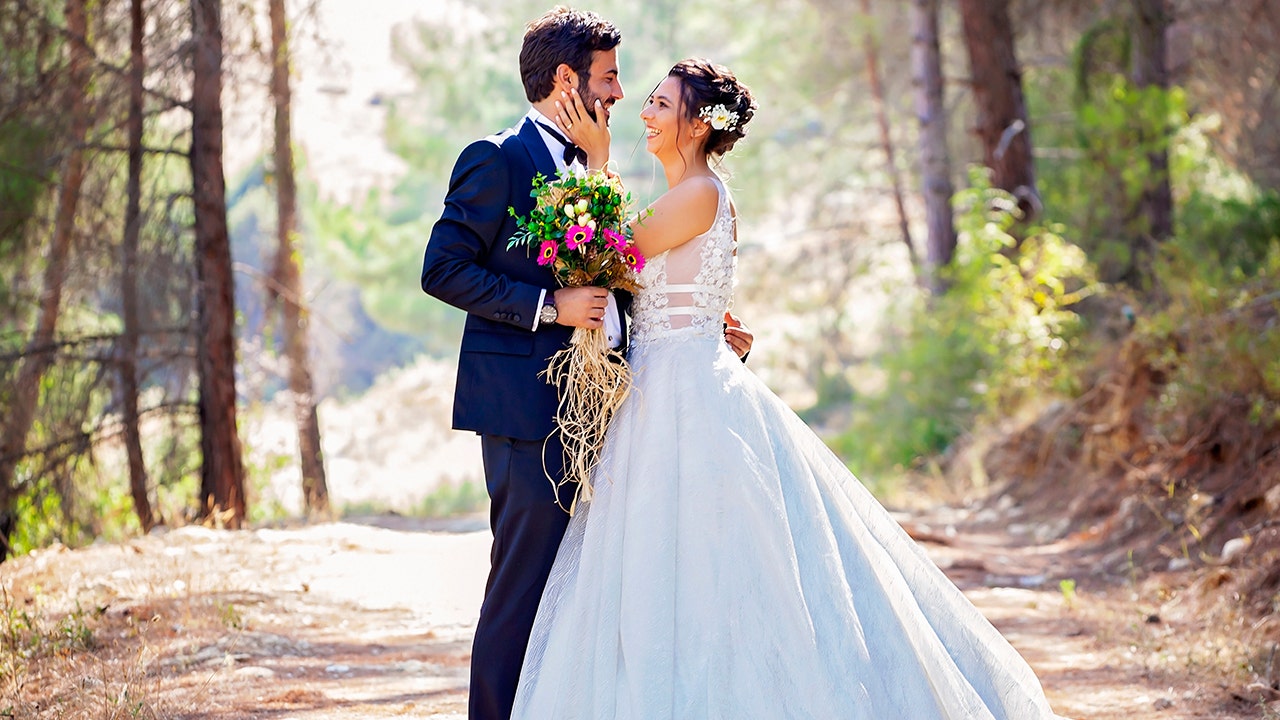 3. Don't buy two bridal dresses
Many brides are now buying two designs for their ceremony and reception, which can be a significantly large added cost for most women. Instead of purchasing two separate dresses and totally blowing your budget, try shopping for a cocktail length or tea-length dress, then add a full skirt over it. Many designerseven offer convertible dresses, which provides the wearer with two looks in one dress.
4. Host your event on a Friday or Sunday
By skipping Saturday receptions, you can automatically trim thousands off your venue rental. Try throwing your celebration on Memorial Day weekend or another 3-day weekend; this way, you can host a Sunday ceremony and people still have the next day off of work or reserved for travel!
5. Skip the seated dinner
One of the most expensive aspects of your big day will be catering. A great option for casual daytime receptions is passed hors d'oeuvres with a generously appointed appetizer station. You can also offer cocktails and a cake cutting ceremony, too. You'll easily save thousands on a plated dinner and your guests will enjoy all sorts of delicious nibbles.
Let's briefly talk about some important points about saving money. Now I want to talk about today's highlight, which is wedding dress. After all, I sell wedding dresses professionally. I know this industry and the problems many girls face when choosing wedding dresses. Let me tell you something about wedding dresses carefully. What should you pay attention to?
First of all ,there are so many flattering and sexy styles for 2020. Gone are the days when only size 2 women could look good in a wedding gown. The options are endless for girls with full figures, and the hourglass shape is in style. Style Tips for Plus Size Brides Still, if you're concerned about what styles will look best on your wedding day, we've got your back.
1. Newest Sweep Train With Tulle Wedding Dresses
If you're looking to play up your chest and hips (and maybe downplay your tummy), this Allure wedding gown might be a good fit! The dramatic satin pulls together with flattering asymmetrical ruching. The A-line style is always a good choice for curvy women, as well.In general, A-line styles will almost always be a good-looking choice. Details like patterning and ruching can also accentuate your figure while drawing attention away from more sensitive areas.
2. A-Line/Princess – Tulle Wedding Dresses
If you're a fuller-figured bride, try this ball gown-style dress! Featuring tulle, English net, and a girly lace pattern, this plus size wedding dress will make any bride look like a princess ready to meet her prince.It's rare to find a dress that accentuates your booty as much as this one does! This flattering, 1920's-inspired gown is glamourous and form fitting in all the right places, without being tight and stuffy.
I don't know about you, but we are loving the trend towards open back dresses and tops. It's so breezy and feminine! As we're looking forward to spring and summer, baring more skin with a youthful low back is not only stylish, but also comfortable and cool.
Luckily, open back wedding dresses are becoming more and more popular every day, which means you can easily find the perfect gown to rock this gorgeous trend! This style trend is pretty self-explanatory, but if you're on the fence about the chic fashion statement, here are some reasons why you'll love this type of dress.
Fashionistas everywhere are all over the bohemian and "music festival" style trend. Bohemian fashion can mean looser fits, flowing fabrics, and draping that shows off your skin—which a backless dress definitely does. It's a youthful and sexy trend that gives off a carefree and airy vibe.
Don't be turned off, though: wedding designers purposely pair an open back gown with elegant fabrics, crystals, intricate necklines, and flattering silhouettes to create a gown that is just as classy and sophisticated as it is fun and trendy.
Open back or backless wedding dresses can be informal or ultra-glamorous. Like we previously mentioned, there are tons of different low back styles. Not only are there different levels of back-baring designs—from totally backless to more modest options—the style of the rest of the gown also contributes to the specific vibe each gown has. An open wedding dress beautifully complements a laid-back and informal style (think looser bodice paired with a flowing sheath silhouette).
If you're going for a formal look, however, a backless style amps up the drama of a fit and flare skirt or a structured ball gown silhouette. The options are really endless! This style can add an unexpected element to a traditional garment.
Even the most non-traditional bride is probably getting—or at least considered—a wedding gown. It's just one of those traditions! But what if you're someone who has a trendy sense of style and doesn't want a gown that just anyone could pull off?
Enter the backless wedding dress. Showing off your back is a seductive and sexy element that balances an otherwise traditional gown; or adds even more contemporary flair to a dramatic style. It's a very versatile element. Along with the silhouette and embellishments, a backless wedding dress can be combined with long sleeves—like lace or illusion net—to add modesty.
1. Tulle Wedding Dress With Beading Sequins
Say hello to one of the cutest gowns we've seen yet! This dress is a two-piece featuring a flirty lace crop top and a fit-and-flare, floor-length skirt. The skirt is a light tulle with lace appliqués, and the top features beaded detailing over an illusion back and illusion sleeves. This dress works great for a fun, West Coast style ceremony.
2. A-Line/Princess Wedding Dresses
This affordable wedding dresses just screams boho with its boat neckline and soft chiffon fabric. Long, lacy sleeves give the bride a modest coverage, while the low-cut back is breathtaking and sexy. This dress has a slight fit-and-flare, but still maintains a comfy, airy feel. Try this for an outdoor or beach wedding!
RELATED ARTICLES