If you were a Bride, Would you Prefer a Simple Wedding Dress or a Royal Wedding Dress?
Honey, have you thought about your wedding dress? Every girl fantasizes about wearing a wedding dress, right? So what kind of wedding dress do you like? If we are extreme, wedding dresses can be divided into two major directions, one is simple wedding dresses, and the other is royal wedding dresses. These two kinds of wedding dresses also occupy the top of the keyword list of wedding dresses all the year round, so today we will talk about these two kinds of wedding dresses.
Simple Wedding Dresses
Simple wedding dresses can make for the most elegant and classic bridal styles. A simpler gown can be dressed up or down to reflect the style and personality of the bride and her choice of wedding vibe. A wedding dress doesn't have to be glitzy or over-the-top to make you look and feel your best on your wedding day.
1. A-Line V-neck Knee-Length Satin Wedding Dress
This A-line wedding gown features a simple, flattering silhouette and very subtle beading around the sweetheart neckline. This dress is a great option to show off your neck, shoulders, and a statement necklace or earrings! The neckline and pleated skirt give this dress a modern feel. Dress it up for a more put-together look, or wear this dress to a more informal, dance-y wedding reception!
2. Neck Sweep Train Chiffon Wedding Dress
If you're looking for a modest, yet breathtaking bridal gown, try this dress.This classic sheath gown is a perfect example of an elegant and stunning dress with a very simple design. The back features a keyhole opening and the waistline is accented with a delicate bejeweled belt. The English net and light lace on the bodice give a slight floral texture, while the silhouette is slimming and gives the illusion of height to shorter brides.
3.Princess Wedding Dresses
Who doesn't dream of looking like a princess at her wedding? This ball gown silhouette is a classic wedding style for both high-fashion and classic weddings.This gown is sleek and modern, with its scoop back and rounded neckline. The beaded embroidery gives this simple style subtle feminine details. We think this dress is absolutely stunning!
4.Mermaid Lace Wedding Dress
The ruching on this lace wedding dress is simple, but refined.This classy A-line dress features a sweetheart neckline and an open back. Open backs are a great way to simplify your look by showing off your skin and hairstyle. We like the romantic Seine Chiffon on the skirt of this dress, too. This gown is beautiful in its own right, but won't steal the attention away from your hair and makeup on your wedding day.
Royal Wedding Dresses
Meghan is a unique and ground-breaking bride for the royals in many ways. Does this mean she'll branch out from the typical royal wedding dress styles, or will she go for a bolder approach? Here's what we know about royal wedding gowns: they're typically chic and classic. These are the hallmark styles of royal gowns.
Long trains. Not every royal bride has matched Princess Diana's iconic 24-foot train, but long trains are common among royal wedding dresses. Some royals opt for floor-length gowns, like Princess Elizabeth. Still, she attached a silk tulle train at the shoulders to give her 13 feet of trailing fabric. When you're walking down an aisle somewhere as majestic as Westminster Abbey, the elegance of a trailing dress is hard to pass up!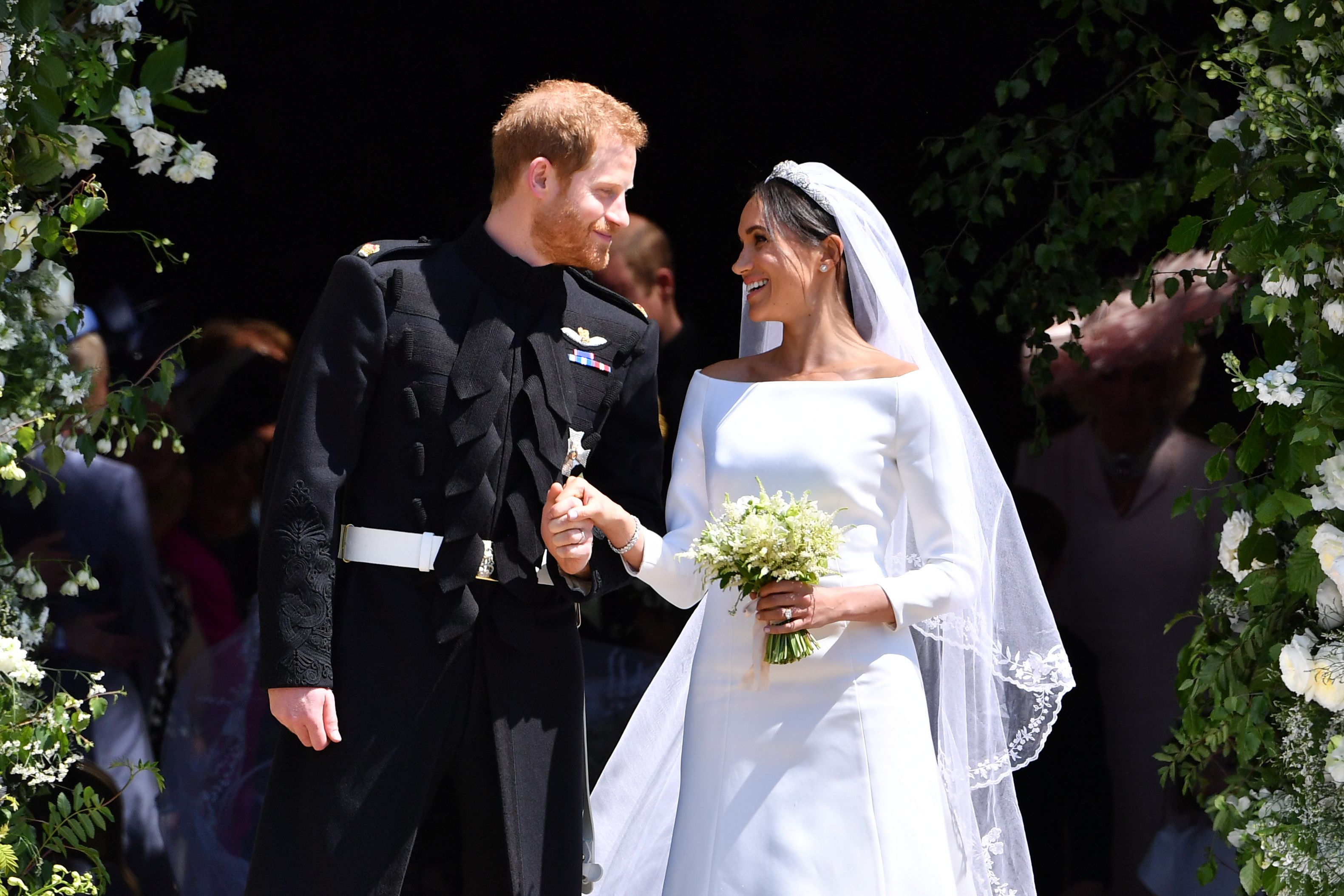 Long sleeves. Diana's big puffed sleeves aligned with true 80s fashion. Kate's body-formed lace above a sweetheart neckline met the modern styles of her day. While the styles change, royals all seem to agree on one thing: we don't show shoulders.
V-necks: What did Princess Margaret, Princess Diana, Kate Middleton, and even Camilla Parker Bowles have in common? All of these royal brides opted to have a v-neck design on their dresses.
Beading: Princess Diana's gown featured 10,000 pearls. Queen Elizabeth's features similar numbers of intense hand-beading work. Detail is an important part of all royal wedding dresses.
Natural waistline:The skirt styles range from giant ballgown to simpler A-line. However, most typical royal wedding dresses feature a natural waistline.
How to Research the Perfect Wedding Dress
How can you ensure that finding the perfect princess wedding dresses is a fun, stress-free experience? We've got great tips to help you know how to choose a wedding dress. From researching styles beforehand to knowing how to make that final decision, we've got you covered.
Styles, silhouettes, and accessories, oh my! There are tons of factors that go into finding the perfect wedding dress. Doing research before you go into the salon will make the experience much less overwhelming and way more fun.
When deciding which styles you like, this is a good place to start. Do some research (we recommend hopping on Pinterest) to learn more about which silhouettes and dress styles will flatter your body shape. Once you've narrowed it down to the dress shape you like best, you can start thinking about essential details.
Shopping for the perfect wedding dress should be a fun, memorable experience. However, it can also be a lot of pressure. If you bring friends or family along to the salon, you've got to juggle a lot of opinions. Everyone has a different idea about how to choose a wedding dress, what the perfect wedding dress looks like, etc.
It's hard to focus on what you want in the midst of all that noise. It can also be hard to find "the one" for other factors. Maybe you have budget concerns, or you're indecisive, or you're just waiting for the dress that gives you that overwhelming urge to say "yes."
We all love browsing bridal magazines for inspiration, but keep in mind that these aren't real brides—they're models. They're likely thinner than most women, and they also have the advantage of photoshop and studio lighting. Check out our real wedding blogs for inspiration from brides just like you!
Once you have an idea of what you like, start browsing wedding dresses. This will give you an idea of what you can expect to find in your price range once you go into a salon. Keep in mind the cost of accessories when setting your dress budget, too! The dress isn't complete without a veil, jewelry, and shoes. These things add up quickly.
RELATED ARTICLES