Take A Look At The 93-Year-Old Queen Elizabeth II's Wardrobe Of Royal Dresses
Everyone must be very interested in the British queen's private wardrobe, in the end, what is in her wardrobe? Today we will focus on her royal dresses to explore and discover.
This is an unprecedented collection of awesome dresses, hats and other accessories that were designed for the real fairy princesses and worn for the most important events of the British Queen Elizabeth II 90 years. Shaping the reign: the 90-year style in the Queen's wardrobe, an exhibition held at her three official residences, will open at Buckingham Palace on July 23, featuring more than 150 of the Queen's most iconic outfits, including outfits made for her wedding and coronation ceremony, the outfits she wore at the wedding of Prince William and Kate Middleton (Kate Middleton),
Queen Elizabeth is 90 years old this year, in honor of her birthday, held an exhibition showing her clothes. Buckingham Palace exhibits are elements of the manor rooms open to the public during the summer in 2016 and are one of three royal fashion shows to be held at Windsor Castle and Holyrood Palace in Edinburgh. Items in each exhibit have been selected to correlate specific events with appropriate locations.
Queen Elizabeth II's Wedding Dress
If you watch the first episode of the Netflix movie "The Crown," you'll notice the stunning wedding dress worn by actress Princess Elizabeth, Claire Foy, as she walks down the aisle of Westminster Abbey. This wedding dress ball gown is made of ivory satin, embellished with 10,000 seed pearls and embroidered with star lilies and orange blossom. It costs as much as £ 30,000 (about $ 37,000) and takes seven weeks to produce. But this is not just extravagant clothing. This gown was an exact replica worn by Princess Elizabeth when she married Prince Philip of Westminster Abbey in 1947.
Princess Elizabeth's dress was designed by the royal couturier Norman Hartnell, inspired by Harper's "Bazaar" by the Renaissance painter Sandro Botticelli's "Primavera", with smooth lines and floral reminiscent of paintings. According to the Royal Collection Foundation, the awning and its spring evocation symbolize post-war Britain's "rebirth and growth."
It features a high neckline and long sleeves, plus a well-cut bodice and a full skirt that makes this dramatic train hot in pursuit of the soon-to-be Queen.
By modern standards, Elizabeth was the last-minute bride. Her gown is an exquisite ivory gown, made of ivory silk and decorated with 10,000 seed pearls, only approved three months before the wedding. Couturier Norman Hartnell wants to be " by far the most beautiful dress I've ever made."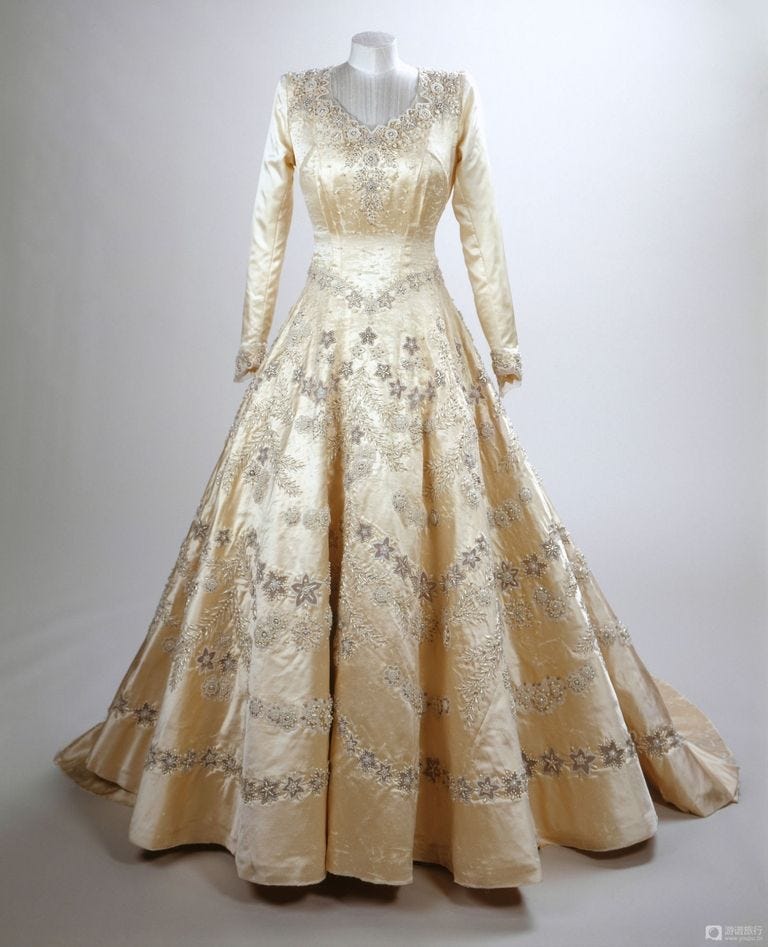 And very beautiful. The dress was made of silk from China (as opposed to Japan or Italy, as it was only the next day after the war), and its 15-foot-long train was inspired by the painting Primavera by Bottielli in 1482, covered with exquisite floral motifs, including "Jasmine", night and rose-like flowers."
It took nearly two months for 350 women to put Hartnell's designs into practice. Not only did it take a 13-foot train to embroider, to cut the bodice, but it took a long time to import pearls from the United States.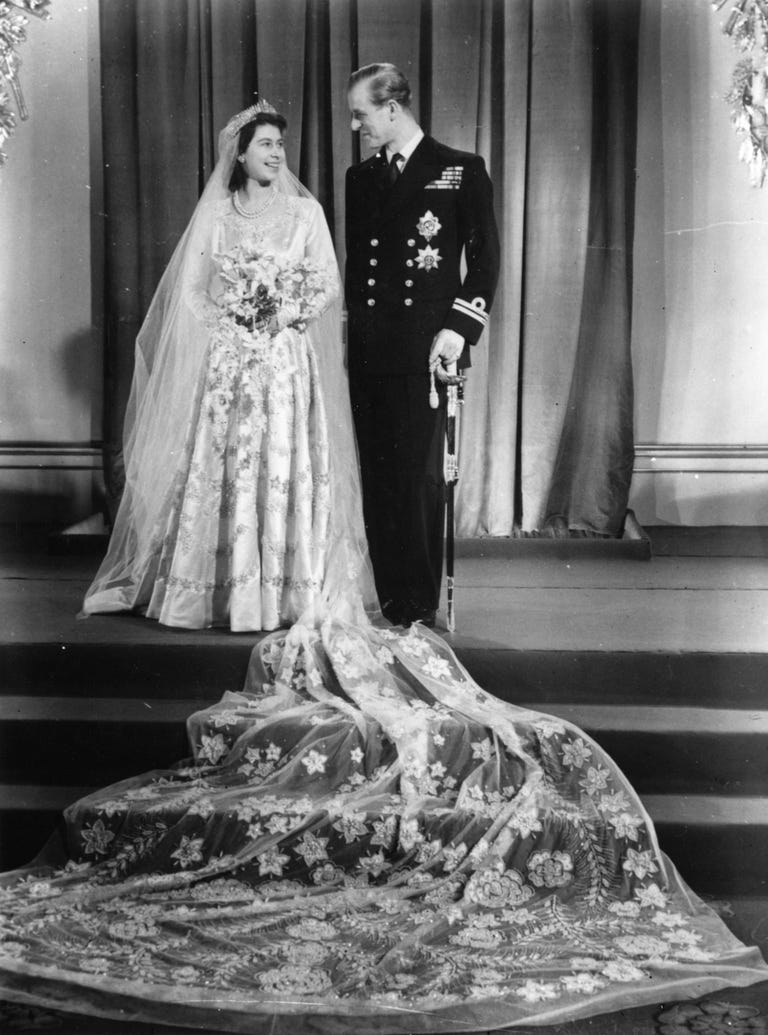 Queen Elizabeth II's Different Royal Dresses
The Queen wore 100 different formal dresses on her first Commonwealth tour alone. Since then, with all the excursions she has carried out, you will find a lot of courtesies. Let's look at the final wardrobe.
Since her first visit, the Queen has made 170 official visits to Commonwealth countries-they still make up a third of her foreign travels. During that time, she meticulously crafted the image of a world leader in her own costume. Politics is important, but clothes are also important. The young Queen dazzled the world with satin, embellished with beadwork, embellished with priceless jewels, using her wardrobe to convey to the world information about status, power and her unique historical status.
She wore fairytale ball gowns from a young age, going through the fine tailoring of the 1960s, into the soft lines of the 1970s, and then gradually becoming the present incarnation, becoming a fashionable high-class stateswoman whose style was admired by the younger generation(model Agyness Deyn quotes her as a fashion icon). In the summer of 2009, 28 major long evening dresses (as well as jewelry and bonnets) in the Queen's costume archive were on display at Buckingham Palace as part of the "Queen and Commonwealth: royal tour", an exhibition commemorating the 60th anniversary of the founding of the Commonwealth.
It provides a fascinating insight into how clothes have been used for the past fifty years to convey information about royal power and to make petite women look stylish and comfortable on a 15-hour workday.
Today, the 93-year-old queen's parade has declined. Of course, it's unthinkable to start that six-month trip to kick-start your own reign. And, no doubt, her dress will be as always. The result is stylish dresses without grandiose, visible but never shocked.
They respect, elegance and most importantly knowledgeable. Most importantly, these dresses are as hard as the women who wear them.
Queen Elizabeth II Doesn't Wear The Same Outfit Twice
It is known that Queen Elizabeth II is one of the most fashionable members of the royal family. She always matches each dress perfectly with bright neon colors with hats and umbrellas. But since she has been around for a long time in public, and every royal party and engagement has been photographed, many of the people she attends are wondering if she has ever worn the same dress twice.
This is the answer to whether Queen Ma wears the same dress more than once and her genuine attitude to all old clothes.
It is not unheard of for a member of the royal family to wear the same dress many times.
In terms of the Queen's daughter, Princess Anne has such a bride as Prince Harry, Meghan Markle. And, do not forget that Kate Middleton, the wife of Prince William, can recycle many of her clothes.
The Duchess of Cambridge has more photos than any other royal collection costume she used to wear. Whether it's pants, a suit with an old suit or a blazer, Middleton proves that she will never wear the same outfit again on many different occasions.
But what about her grandmother? Did Queen Elizabeth II ever wear the same clothes in public?
The Queen wears the same clothes more than once, but she always does. It's like she's visiting Malta at the Eden Foundation in Zetjun and wearing the same pink light blue coat and matching dress during the Ladies Day at Royal Ascot in 2008.
The Lalamira noted that precautions had been taken to ensure that the Queen's Ma did not wear clothes repeatedly. In fact, her dress team will record every piece of clothing she wears and avoids repetition on any given day.
In short, the royal dresses in the Queen's wardrobe are endless, such as formal dresses, evening dresses and so on,  in addition, it is a habit that she doesn't wear the same dress twice, many of them as the collection of the exhibition.
About LaLaMira
As a company founded more than 10 years, LaLaMira provides many dedicated dresses for world consumers, our purchaser's are from the U.S.A., Canada, Europe, and Australia, etc. over one hundred countries worldwide. Read More
RELATED ARTICLES