The homecoming dance is not that serious, Choose your homecoming dress and have a good time!
Back-to-school season is upon us, and as you curate your looks for the new school year, there are two important occasions that will also require some special attention: homecoming and prom! Read on for the differences between homecoming and prom dresses, and what you should keep in mind to rock your look for the two biggest parties of the year.
Chances are good that you'll end up going to plenty of formal dances throughout your high school years, but homecoming is not one of those. Some schools host homecoming on Friday night right after the big home football game and encourage everyone to arrive in casual clothes (like, as in jeans).
That said, most high schools go a bit dressier with a semi-formal dress code. Translation: Instead of long formal gowns, you'll want to look for a shorter dress. Knee-length dresses, dresses with high-low hemlines or even jumpsuits are all fair game!
Homecoming is open to all grades, freshmen through seniors. So if this is your first homecoming, prepare to see everyone–not just the other kids your age. Worried about being around all those upperclassmen? Don't be. Chances are good that you'll either go to homecoming 2020 with a date, a friend, or a big group of friends.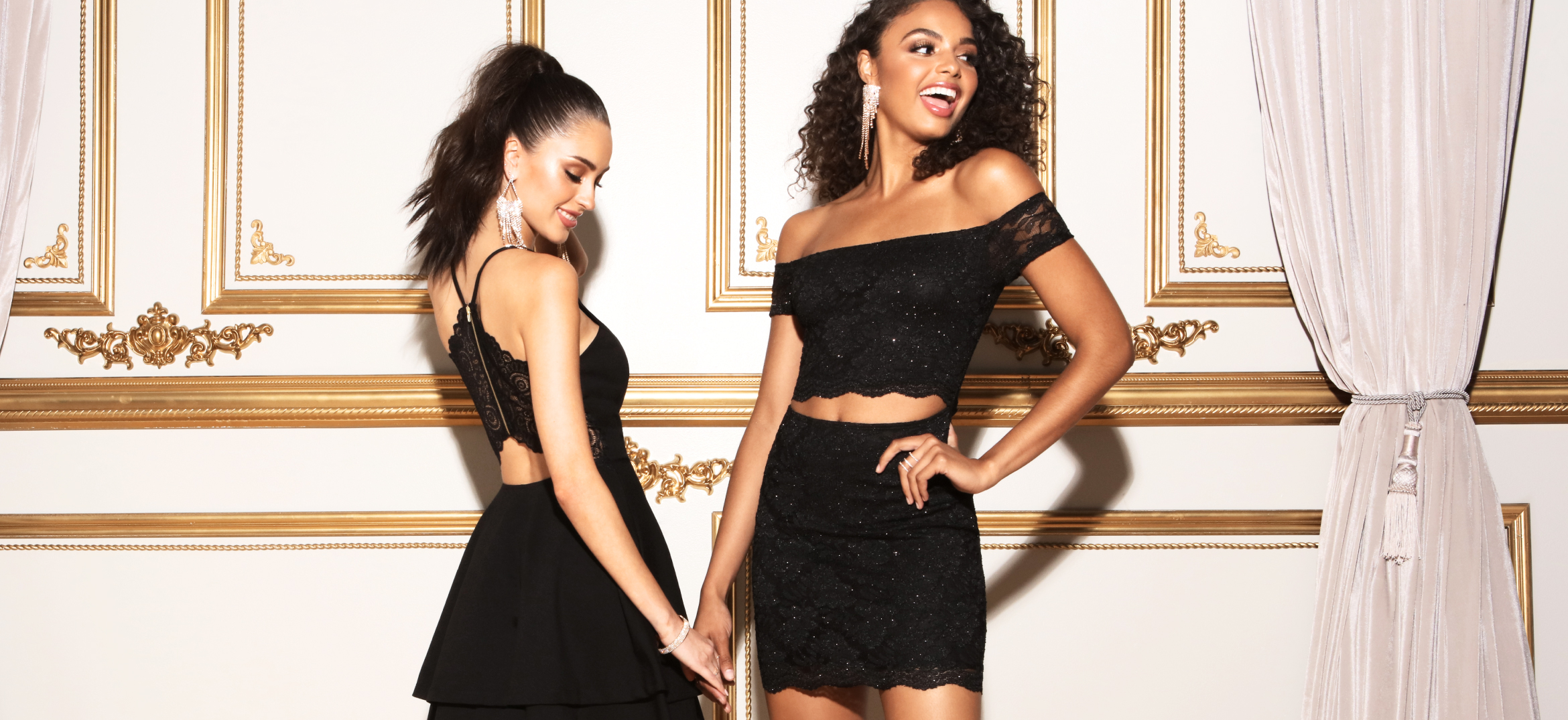 If your school's homecoming is semi-formal, then some students at your school will go with a date. So obviously if you're going out with someone, you'll probably plan to go together. If that's not the case, you might want to ask someone. Or, do it the old-fashioned way and wait for him to ask you. Our big piece of advice here: Don't freak out if you don't end up with a date. Homecoming isn't a huge formal situation like prom. And that leads us to our next point…
You Could Just As Easily Go With Friends.The truth is that having fun at homecoming is about the people you're with. So unless the date thing works out, we think it's more than okay (in fact, probably more fun!) to go with a group of friends. It could be all girls, all guys, or a mix of your favorite people. The point is that you spend the evening dancing with the friends you love (not freaking out over whether your date is having a good time).
Even If It's a Semi-Formal Attire, It Won't Look Anything Like Prom.Yep, you read that right. Homecoming is not even close to the level of formality as prom. While you might wear a plus size homecoming dresses and you may even exchange corsages with your dates or friends, the dance itself probably won't be as fancy (think DJ in the gym vs. band at the nearby country club).
So what kind of homecoming dress are you going to choose next? Why don't you listen to lalamira's professional opinion? You should learn something from it.
1. Homecoming and prom are held at two different times of the year
Homecoming is held early in the school year, and typically centers around a major sporting event where both current students and alumni can revel in school spirit. The homecoming dance is open to all grades in high school and is considered a semi-formal event.
Prom, on the other hand, is held in the spring, and is somewhat of a send-off to graduating seniors and is usually only open to upper-classmen (juniors and seniors). Chances are good, too, that your prom will take place someplace other than your high school gym–setting the tone for a much more formal evening than homecoming.
2. Your long homecoming dresses should be semi-formal whereas your prom dress will be formal
If you're trying to understand what is a hoco dress, start with the formality. Because the homecoming dance is more of a semi-formal occasion, knee-length (or shorter) dresses are totally acceptable and the norm. HOCO dress styles can range from fitted cocktail dresses to full, layered skirts or even two-piece ensembles in a variety of colors. Feel free to wear your hair down and go for a pair of low heels, flats or even cute sneakers!
In that case, then what is a prom dress? Prom, on the other hand, is all about the long-length dresses. Think, prom dresses that skim the floor made of fabrics like silk, satin and organza. Color-wise, you might want to go for something a bit more sophisticated and classic, such as black, navy red, soft pink or even a metallic color. And while it's more than okay to wear your hair down, you should also expect to see a lot of updos and higher-end accessories like high heels and sparkly handbags.
3. You'll probably spend more on your prom dress than your two piece homecoming dresses
A longer dress with a more formal look usually will cost more than the semi-formal styles for homecoming. In fact, between the dress, accessories and your hair and makeup (if you're having it done professionally), you can expect to pay 3-4x more on your prom style than your homecoming outfit.
By the way, one more thing to remind you, when you choose your homecoming dress, don't forget to match your underwear. Don't be shy, it's a very important thing. You don't want to embarrass yourself by leaking your underwear while dancing? Look at the following suggestions:
1. Sew in bra cups.
Need support, but your dress doesn't have any built-in? No problem! You can buy bra cups and sew them in yourself! Or, have someone sew in bra cups for you. There are bra cups that range from light padding to full gel push ups, so you can pick which bra cups fit your needs best, and voila! A great bra alternative for your dress.
2. Use stick-on bra cups.
Stick-on bra cups come in different styles. Some have adhesive on the cup itself, while others have sticky wing adhesives on the sides of the cups (but the cups themselves aren't sticky). The ones with sticky wings tend to provide a little more support.
An advantage to stick-on bra cups is that they often can be washed and reused. This means that once you buy a stick-on bra, you can re-wear it with multiple open-back dresses and strapless dresses. Pro Tip: Make sure you don't have any lotion or body oil on before applying the stick-on bra, or the cups may lose their stickiness and fall off. Talk about an unwanted wardrobe malfunction . . .
3. Choose a dress with built-in support.
The easiest solution to nixing the bra is to buy a dress that has built-in support. Built-in bras can range from simple padded cups, to wire cups, to full boning in the bodice. Another great option is to find a dress with a corset-style back that can be laced up for a secure fit. A dress that fits perfectly leaves no need for a bra.
4. Get crafty with tape.
There are different ways you can tape your bust in order to give the illusion that you are wearing a bra under your simple homecoming dresses. Taping vertically over your bust provides more support, where as taping horizontally across your bust can provide a little lift. Which way to tape is up to you and the neckline of your dress.
Warning! Not all tapes are created equal. Be sure to use a tape that is gentle on the skin and will come off easily with warm water. To be safe, you can cover the sensitive areas of your bust with padding or adhesive pads under the tape to protect your skin. It might be a good idea to test the tape on your arm before applying to your bust area to make sure you won't have an allergic reaction (Ouch!).
5. Go confidently braless.
If you put your dress on and feel comfortable in it, does it really matter if a bra is involved? Try it on and dance around a little. Are you secure and still put together? Sounds like your bra dilemma is a non-issue! Put on that backless dress, halter-top dress, or caged-back dress, and let your confidence give you all the support you need!
RELATED ARTICLES